Article from: www.thenewspaper.com/news/33/3372.asp


1/9/2011
Australia, France, Poland, Saudi Arabia, UK Protest Speed Cameras
Vigilantes in five countries around the world destroy and protest against the use of speed cameras.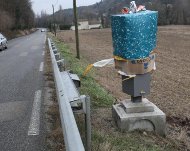 Vigilantes in France used Christmas wrapping to decorate a speed camera on the RD 538 last week. The device located on the road between Chabeuil and Crest was unable to issue tickets, Le Dauphine reported. For the new year, a pair of speed cameras on the A36 -- one in Belfort and another in Danjoutin -- were set on fire with tires and gasoline. Police have no idea who might be responsible, Est Republicain reported.

In Chester, England a camera was set on fire on Monday at around 3am, the Chester Chronicle reported. As in France, a tire wrapped around the automated ticketing machine was set on fire.

In Kedzierzyna-Kozla, Poland, the speed camera on John Paul II Street has failed to mail a single ticket since it was installed May 1 because vigilantes spraypainted the lenses. Moje Miasto reported that officials have been unable to remove the white paint without it being immediately resprayed.

Drivers in Saudi Arabia are protesting against the Saher speed camera system by covering their license plates with cardboard. A member of the Shura council, which acts as the parliament, said the automated ticketing machines were a form of usury banned by Islam, Emirates 24/7 reported.

In Victoria, Australia motorists and big-rig truckers have expressed their displeasure with photo enforcement by veering toward mobile speed cameras and pulling back at the last minute, frightening the camera company employee inside, the Whittlesea Leader reported.

"We've got one incident on film where one driver, traveling at a high speed, went on the wrong side of the road to drive by a camera car and probably only missed it by inches," Epping Highway Patrol Constable John Mizzi told the Leader. "It is a common occurrence but there has been a definite increase in relation to the number of trucks involved."