Article from: www.thenewspaper.com/news/42/4211.asp


9/18/2013
Canada: Group Protests Missing Signs In Speed Camera Zones
Group tries to embarrass Winnipeg, Canada into posting warning signs for school zones.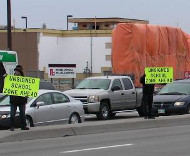 An activist group in Winnipeg, Canada is upset that officials are issuing photo radar tickets in school zones without letting motorists know they are in a school zone. Wise Up Winnipeg members stood at the corner of Stafford Street and Warsaw on Friday warning drivers with bright yellow signs that read, "Unsigned school zone ahead." The group wants to bring attention to the city's refusal to act on a list of 203 locations where they say the signs do not comply with legal standards.

So far, city officials are not commenting on the matter and have installed only three new warning signs since the group raised the issue last October.

"That is because WiseUp informed two school principals of the matter and they contacted the city directly, causing the missing signs to go up immediately," Wise Up founder Todd Dube told TheNewspaper. "The other was the result of a similar press conference we did at a school on a major roadway that received national media attention -- causing the city to erect that sign a few days later."

This time, the group protested outside St. Ignatius School where signs have been missing for over four years.

"The city claims to be reducing the speed for children's safety but how can they make that claim when they don't adhere to the minimum signing requirements that all other Canadian cities meet or exceed," Wise Up member Chris Sweryda said. "There are requirements placed on drivers in a school zone which can only be effective with signing."

On Tuesday, Sweryda posted to the Wise Up Facebook page a video of Winnipeg city employees pulling down a speed limit sign. The group charges the city with intentionally trapping motorists with speed cameras unaware that they are in a reduced speed limit school zone. The city is looking to further increase citations by reducing school zone speed limits from 50km/h (31 MPH) to 30km/h (19 MPH).

"They are focused on propagating the myth that safety is achieved by lowering all school zones to 30km/h," Dube said. "That's despite the experiences of other Canadian cities who abandoned that strategy due to it causing only nine percent compliance to drivers and an increase in accidents due to the varying speeds it caused in those stretches... There is zero statistical basis to make the case that this approach achieves gains in safety -- only conversely so."

Wise Up Winnipeg plans to continue holding protests at individual locations until the city complies with the law.