9/7/2021
Speed Camera In Fatal New Zealand Accident, Cameras Attacked In Europe
A speed camera van was involved in a fatal New Zealand collision while vigilantes disabled cameras in England, France, Italy and Luxembourg last week.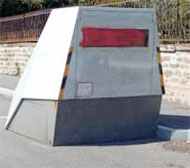 By Richard Diamond/Staff Reports

A speed camera van was involved in a fatal collision in Auckland, New Zealand, on August 30. At around 10am, the 72-year-old driver of a speed camera van parked behind a bridge on the side of Upper Harbour Highway in Greenhithe to set up automated ticketing operations. The camera failed to prevent the 58-year-old driver of a gray Subaru Forester from striking the van. The Subaru driver was killed by the impact, while the camera van's driver was taken to the hospital in critical condition, according to a New Zealand Police statement.

In Agrigento, Italy, on Sunday, a man rammed a speed camera with his car, knocking over the device that had been issuing tickets on the SS640. Local police have no idea who might be responsible. In Luxembourg, vigilantes blinded the speed camera on the N8 near Saeul with black spraypaint on August 26. Police in Dorset, England, on Thursday issued a press release calling for witnesses to the burning of a speed camera on Ringwood Road on August 18, saying the act "caused many thousands of pounds worth of damage to the camera."

Vigilantes in Soissons, France, have been applying "non essential" stickers to all of the speed cameras on the RN31 and RN2, preventing the devices from issuing automated tickets and also sending a political message about the government's response to the Covid-19 virus scare. On Saturday, vigilantes used red spraypaint to blind the speed camera on the RD420 in Aydoilles. On August 30, vigilantes torched the speed camera on the RD437 in Arcon.