2/20/2023
Canada, Germany Martinique: Speed Cameras Sprayed And Scorched
Speed cameras were disabled with fire and spraypaint in Canada, Martinique and Germany last week.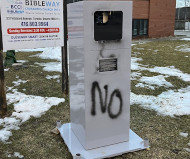 By Richard Diamond/Staff Reports

Vigilantes in Toronto, Canada, began trashing the city's speed cameras last week. As reported by BlogTO, the speed camera on Midland Avenue had its lens blinded with black spraypaint. Vigilantes also knocked over the speed camera on Logan Avenue. In Mississauga, the photo radar unit was painted black. At Pritchard Avenue, the camera's lens was smashed and the word "NO" spraypainted on the front of the device.

On Tuesday, speed cameras burned once again on the Caribbean island of Martinique, with the ninth photo radar unit going up in flames in the Belle Etoile district of Sainte-Marie. The same device had been set ablaze January 29, but officials rushed to repair the machine and resume automated ticketing, prompting the response from local residents.

In Ludwigsburg, Germany, vigilantes beat up the mobile speed camera device operating on Bundesstrasse 27 on Saturday, February 11.