10/30/2013
German Supreme Court OKs Parking In Front Of Speed Cameras
High court in Germany finds blocking a speed camera is not a crime.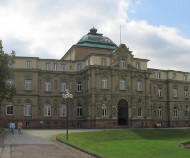 Earlier this year the Federal Court of Justice of Germany, the country's supreme court, upheld the right of citizens to park in front of a mobile speed camera vehicle and block its ability to issue tickets. The case came about after a driver flashed for driving 43km/h (27 MPH) decided to get even by parking his van in front of the radar unit and walking off to go about his business in June 2011.

The speed camera operators became outraged and looked up the drivers cell phone number from his license plate. When the camera operators called and identified themselves, the man immediately hung up. His car was legally parked, but the officers called a tow truck to have it removed. Before the tow truck had a chance to take the vehicle, the man returned and drove away having succeeded in blocking an hour's worth of ticketing.

The district court in Waldkirch found the man guilty of assault and imposed a fine. The man appealed, and a higher court found he did not act with coercion needed for an assault charge, but it asked the high court to resolve the question of whether the man's actions interfered with public order and safety, which would make him guilty of interfering with a public enterprise.

The high court looked at the statute in question and found that it speaks of destroying, damaging, removing or changing a device. In this case, however, the driver did not physically affect the speed camera in any way. He did not smear the lens or spray it with paint.

"There was therefore no manipulation of the instrument itself or any substantial part thereof that could have led to an actual reduction in function," the high court found.

The justices agreed that the actions of the man prevented speed camera measurements, but they did not substantially affect the camera itself.

"This is proved by the fact that had only a slight displacement of the measuring vehicle been made (depending on device), the measuring device would have resumed measuring," the court ruled.

As a result of the ruling, prosecutors will have no case left against the man. A copy of the decision (in German) is available in a 150k PDF file at the source link below.