5/29/2015
Tennessee And Texas: Traffic Camera Industry Blocks Automated Ticketing Reform
Tennessee limits new cities from installing new speed cameras. Texas Senate passes measure to limit new red light cameras.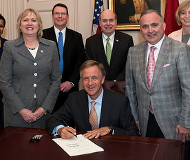 At some point in the future, Tennessee may have fewer speed cameras. Governor Bill Haslam last week signed into law a bill originally titled the Tennessee Freedom From Traffic Cameras Act that, after being watered down by photo enforcement lobbyists, will not actually result in any cameras being removed when it takes effect on July 1. Similarly in Texas, the state Senate on Wednesday re-passed language described as a "ban" on red light cameras that will allow the devices to continue to be used, in some cases, until the year 2035.

Earlier this year the Texas Senate passed a watered-down measure prohibiting cities from entering into new contracts to run red light camera programs but allowing jurisdictions that already have the devices to continue doing so for the duration of their existing long-term contracts. The measure even gave localities until June 1 to sign new deals if they had not already inked a twenty-five year renewal. State Representative Joe C. Pickett (D-El Paso) used his position as chairman of the House Transportation Committee to block even the watered down compromise bill from having a vote on the state House floor.

In response, state Senator Bob Hall (R-Rockwall) amended House Bill 13, a must-pass transportation funding measure, with the Senate-passed language, bypassing the House Transportation Committee (view Texas amendment, 1.7mb PDF file). This funding bill will now go to a conference committee where lawmakers, led by Pickett, will negotiate the final language of any further compromises behind closed doors.

Both the Texas and Tennessee bills include "grandfather" provisions that a dozen other states gave deemed unnecessary. Several statutory bans on red light cameras and speed cameras (view list) have forced automated ticketing firms to cease operations. These laws were never challenged in court.

As with the Texas bill, the only immediate effect of the new Tennessee law is that new cities will be prevented from installing speed cameras in Tennessee. Tennessee state Senator Todd Gardenhire (R-Chattanooga) gave his city the ultimate grandfather clause in the form of language exempting Chattanooga's most lucrative cameras from any speed camera ban in perpetuity.

A copy of the new Tennessee law is available in a 60k PDF file at the source link below.