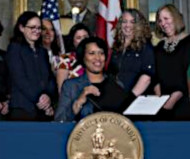 10/1/2020

DC Cracks Down On Drivers From Maryland, Virginia
Washington, DC passes measure that will ban right turns on red, expand red light camera use and suspend out-of-state licenses over photo tickets.


The District of Columbia has finalized a city council resolution that will massively increase the number of traffic tickets issued in the US capital. The thirty-one-page measure adopted unanimously last week will slash speed limits throughout the city to 20 MPH, reinstate a ban on right turns on red and massively increase the use of automated ticketing machines. As passed by the city council, the measure requires the mayor to ensure its for-profit ticketing contractor installs at least ten bu ...




---