9/23/2021
Michigan: Federal Judge Approves Traffic Stop Based On Inaccurate Database Info
Federal judge validates traffic stops based solely on insurance information in a database that may be two weeks out of date.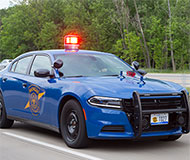 By Richard Diamond

A database that might have as many as 730,000 faulty records is good enough for conducting a traffic stop in Michigan, a federal judge ruled last week. US District Judge Stephanie Dawkins Davis found that even if the state's motor vehicle database was only 90 percent, that is sufficient for the Michigan State Police to conduct a traffic stop over an expired insurance policy.

On September 8, 2020, Anthony D. Stone left the Economy Motel in a black Lincoln SUV and pulled into the parking lot of the Walmart on Corunna Road in Flint. A pair of Michigan troopers followed and turned on their squad car lights to conduct a traffic stop. Stone had not committed any traffic violation. Instead, a license plate lookup suggested the troopers would be able to issue Stone a ticket for having expired car insurance. Those database records are only updated on the first and fifteenth day of each month, but prosecutors claimed the officers had no reason to believe that Stone had recently updated his insurance. Anyone legally waiting until the last day to renew insurance online would have the same uninsured flag on their record.

The troopers never wrote Stone a ticket for the expired insurance. Instead, they found a backpack behind the rear seat of the SUV containing a Taurus G2C 9mm pistol that Stone was prohibited from possessing as a convicted felon. After being charged with possession of the gun, Stone argued the evidence should be thrown out because both the traffic stop and search were unconstitutional.

"Here, the arrestee (Stone) was out of the car unable to access the discovered gun, and what additional evidence of driving without insurance would be produced in a compartment search?" Stone's community defender, Randall C. Roberts, asked. "He was validly licensed and insurance coverage has nothing to do with vehicle safety or the vehicle being properly driven. They just wanted to search that vehicle, period."

Judge Davis was not persuaded.

"Stone makes much out of the fact that the Secretary of State database is only 90-95 percent accurate," Judge Davis wrote. "The database's high degree of accuracy would seem to work against rather than support Stone's argument. As a practical matter, probable cause does not require absolute certainty... Thus, the troopers' reliance on information from a state database that has been measured to be at least 90 percent accurate in identifying vehicles that lack insurance coverage would seem to easily raise a reasonable suspicion of a violation of state law."

Once the stop was upheld as legitimate, the court found the search -- aside from a disagreement about consent -- would have been validly conducted before the car was towed away and the gun inevitably discovered.

A copy of the decision is available in a 200k PDF file at the source link below.